My Lady Jane by Cynthia Hand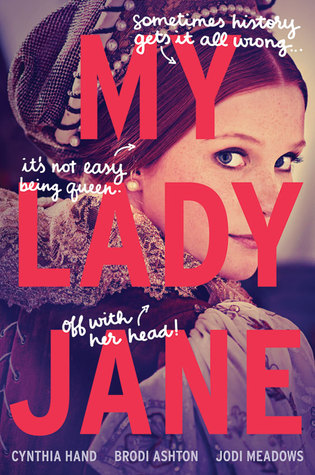 Synopsis: Edward (long live the king) is the King of England. He's also dying, which is inconvenient, as he's only sixteen and he'd much rather be planning for his first kiss than considering who will inherit his crown…
Jane (reads too many books) is Edward's cousin, and far more interested in books than romance. Unfortunately for Jane, Edward has arranged to marry her off to secure the line of succession. And there's something a little odd about her intended…
Gifford (call him G) is a horse. That is, he's an Eðian (eth-y-un, for the uninitiated). Every day at dawn he becomes a noble chestnut steed—but then he wakes at dusk with a mouthful of hay. It's all very undignified.
The plot thickens as Edward, Jane, and G are drawn into a dangerous conspiracy. With the fate of the kingdom at stake, our heroes will have to engage in some conspiring of their own. But can they pull off their plan before it's off with their heads?
Publication Date: June 7th, 2016
Series: My Lady Jane
Rating:

My Review:
I really enjoyed reading this and was immediately sucked into the story from page 1. It was really hard putting it down, since I had to other things to do besides read My Lady Jane. My Lady Jane is a historical novel about King Edward IV,  and Lady Jane. There is three protagonists who each get a POV to begin with.
I really loved Edward especially since at least he realized that he was being poisoned by people who he knew, which is such a cliche, but at least he knows it is a cliche at least. Edward was someone who I loved as he takes action about what he's going to do after his death, instead of sitting on the throne. I think he was my second favorite POV in the whole thing with the first being Jane for some odd reason.
I loved Jane. Jane is such a bookworm and she would rather read instead of be like other court members. She doesn't want to get married especially at the tender age of sixteen. I feel like she would rather marry a book instead of being in an arrange marriage with someone she doesn't really know.
While I had a hard time connecting with G (Gifford) in the beginning, but I fell in love with him in the end. He's such a softie especially if it really deals with poetry. I love that he is supportive to Jane and vice versa. I kinda loved that he could turn into a horse, but simply during the day while at night he returns to a human. Jane and G were really fit for each other, and they began to love and trust each other which is really sweet, despite having to be in an arranged marriage where while they disliked it, but they grew to love each other anyways.
I loved that the narrators had did research to do this book, and they added a happier twist instead of what it used to be. It was the best, it was definitely fluff, but very adorable. I really liked how the narrators nodded towards that conspiracy theory that Shakespeare didn't write his poems, plays and such, and simply put it as G, I though that was really cool.
---
Recommendable?: Yes!
I really thought this book was a cute read for it being part Historical and part Fantasy. I really think it was really written, and I hope that I pick up the next book soon.
Thx for reading!
-Lori