P.S. I Still Love You by Jenny Han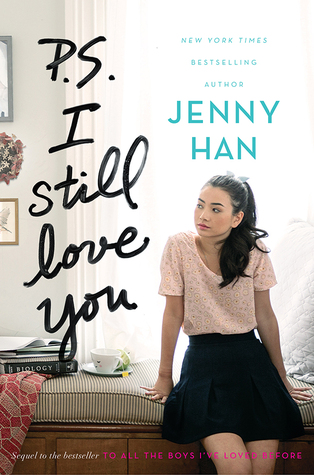 Synopsis: Lara Jean didn't expect to really fall for Peter.
She and Peter were just pretending. Except suddenly they weren't. Now Lara Jean is more confused than ever.
When another boy from her past returns to her life, Lara Jean's feelings for him return too. Can a girl be in love with two boys at once?
In this charming and heartfelt sequel to the New York Timesbestseller To All the Boys I've Loved Before, we see first love through the eyes of the unforgettable Lara Jean. Love is never easy, but maybe that's part of what makes it so amazing.
Publication Date: May 26th, 2015
Series: To All the Boys I've Loved Before (#2)
Rating: 
My Review:
I reread To All the Boys I've Loved Before after watching the movie, and I freaking realized that I judged the book to harshly. I really loved it and I saw myself loving Lara Jean in the books. Even though I still hate how she calls her parents mommy and daddy, her character is really amazing. The story was really good and I still love Kitty and Peter since they're obviously the best minus Lara Jean.
I kinda felt like Peter was really not himself in this book. I loved him in the first book, but now reading this book, I'm not really so sure. Peter is mostly absent in this book because he's taking care of his ex-girlfriend leaving Lara Jean alone dealing with being slut-shamed by other girls.
Lara Jean's culture is really explored well into this novel about the food, and Korean stuff which is awesome. While it was absent a lot in the first book, this book was really good exploring Lara Jean's Korean side with her family. I found myself loving every minute of her culture explored because it really was the best.
I love Lara Jean's reactions to everything as she is now being seen as a slut around school all because she kissed Peter in the hot tub in the last book, and people think they had sex which obviously was messed up. I loved how she was really weary of telling her dad and her sisters about this, since she didn't really want to worry about them, but I'm glad that they help her.
The pacing in this book was really slow. Nothing really happened much in the book unlike the first book, because Petter is with Gen, Lara Jean is now dealing with John, the boy from her past, and getting slut-shamed by other girls. And that's just the main gist of the book.
---
Recommendable: Yes
I really liked reading the first two books of the trilogy, and I can't wait to read the third. Hopefully it doesn't disappoint me.